When you need a simple, affordable flooring solution that closely mimics your favorite styles, consider laminate flooring at The Floor Trader of Jackson!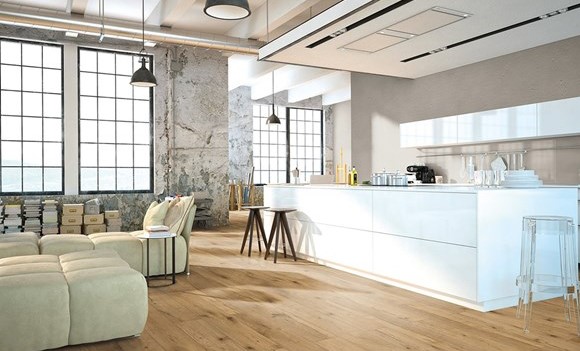 We are the area's leading flooring store and are proud to offer a variety of in-stock laminate flooring selections in modern wood and tile looks. Whether you want to upgrade a small bathroom or purchase flooring for a new build, we have the laminate floors for projects of any size and scope. More than just quality products, we offer attentive customer service, and design expertise, and can connect you with professional installers for a full-service flooring remodel. Visit our showroom today in Jackson, Michigan, to start browsing our gorgeous laminate flooring selection!
What is Laminate Flooring?
Laminate flooring, a sought-after alternative to hardwood or tile flooring, features five key layers, each serving a specific purpose:
Base Layer

: This layer provides moisture resistance, ensuring the flooring's integrity.

Sturdy Core

: The sturdy core stabilizes the flooring, making it capable of withstanding heavy foot traffic.

Decorative Layer

: This layer allows for diverse patterns, enabling realistic wood or stone looks, and enhancing the aesthetic appeal of the flooring.

Wear Layer

: Typically composed of melanin resin and aluminum oxide, the wear layer safeguards the floor against stains and unsightly marks, ensuring long-lasting beauty and durability.
What Types of Laminate Flooring Are Available?
When choosing laminate floors, it's important to consider your lifestyle, current space, design goals, and budget. We can help guide you toward the best-fit flooring solution. Choose from the following types of laminate floors at our local Jackson, MI, showroom.
Wood Look Laminate Flooring
Wood-look laminate flooring offers a wide range of options, from glossy oak to rustic knotted hardwoods, to bring the warmth and charm of wood into your home. With the convenience of being oops-proof and water resistant laminate's layered structure ensures both authentic hardwood appearance and lasting performance. Some popular wood-look laminate styles include neutral-toned greys, beiges, cleaner grains with less knotting, and wide planks. With both classic and modern wood styles, you can always find what you need at our local flooring store.
Crafted to mimic the genuine look of hardwood, wood-look laminate flooring is an affordable and durable alternative to hardwood. It's perfect for kitchens and bathrooms, as it is water-resistant and suitable for installation in any room in your home.
Tile Look Laminate Flooring
When you desire the elegant look of ceramic or porcelain tile, but need a more affordable alternative, tile-look laminate is an ideal solution. Find a variety of sizes, styles, textures, and colors to match your desired aesthetic. Tile look laminate is very simple to keep clean and install, not to mention a much warmer feeling underfoot you'll love in chilly Michigan winters. Install tile-look laminate in any room of your home, most popularly in kitchens and bathrooms.
What's the Difference Between Laminate and Vinyl Flooring?
In Jackson, MI, when it comes to choosing the right flooring for your home, laminate and luxury vinyl flooring stand out as popular choices. Both of these flooring options offer remarkable durability and come in a variety of appealing wood and tile designs. Our flooring specialists can help you decide which type of flooring is best for your unique needs. However, they each come with their own unique features:
Laminate flooring

is constructed with a wood-byproduct core, making it a robust and cost-effective choice. While it can resist water to some extent, it's important to note that its wood core is not entirely waterproof.

Luxury vinyl flooring

, also readily available in Jackson, MI, boasts a rigid core that is completely waterproof. This makes it an ideal choice for areas with high moisture levels, such as bathrooms, basements, and laundry rooms. Keep in mind that luxury vinyl flooring may come at a slightly higher cost compared to laminate, but it provides added peace of mind in moisture-prone environments.
Advantages of Laminate Floors for Your Michigan Home
Our Jackson customers continue to choose laminate because of its versatile functional benefits and pleasing aesthetic. We carry industry-leading laminate brands such as Mannington, Mohawk, Quick Step, Paramount, and Audacity, to ensure you receive the lasting quality you deserve. Enjoy all of the following advantages with our laminate flooring selections:
Kid and Pet Friendly

: Laminate's built to withstand daily wear and mishaps that are inevitable in homes with children and furry friends.

High Durability

: It's exceptionally durable, with waterproof and scratch-resistant properties, ideal for active households.

Easy Maintenance

: Designed for hassle-free upkeep, spills, and accidents can be quickly wiped away.

Swift Installation

: Laminate can be installed quickly and with ease.

Authentic, Versatile Styles

: It provides an authentic feel of tile or hardwood flooring, catering to various interior designs.

Budget-Friendly

: A great choice for landlords looking to enhance rentals or homeowners seeking a cost-effective upgrade.

Comfortable and Resilient

: Offers a comfortable and resilient feeling underfoot.

Energy Efficiency

: Boosts insulation, potentially lowering energy bills.
In summary, laminate flooring combines cost-efficiency, durability, easy maintenance, and versatile design options to suit both busy lifestyles and budget-conscious customers.
Laminate Flooring Installations with Jackson Contractors
When planning a laminate flooring installation in Jackson, MI, achieving a professional finish is paramount. While the installation system often utilizes a quick click-and-lock or tongue-and-groove method, precise measurement, and plank placement are crucial. Although some experienced individuals choose to DIY their laminate installations, we highly recommend professional installation for enduring aesthetic appeal. If you're in Jackson, MI, we can connect you with reputable laminate flooring installers, ensuring a swift transition to your new floors at a budget-friendly cost.

Contact us today to start browsing our laminate flooring selection. We proudly serve Jackson, Michigan, and the surrounding Jackson County communities!